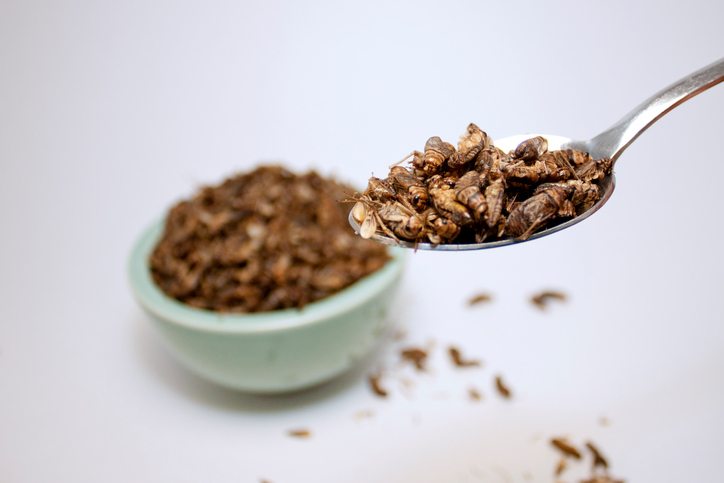 The possible benefits of insect protein as a livestock food source are making waves in the global agriculture community. With the European Commission officially approving the use of insect protein as a new form of aquaculture feed, it seems the subject of insects as a form of livestock feed could be gaining momentum in 2017. Approval by the European Commission comes on the heels of the Canadian Food Inspection Agency (CFIA) approving the use of insects as an ingredient in Salmon feed.
In an agriculture economy that's increasingly fixated on sustainability, the potential for insects as a livestock food source is nothing short of exciting. By 2022, the size of the insect feed market is expected to eclipse $1 billion.
The Potential for Insect Protein
The world's population is increasing rapidly and with that growth comes a massive increase in demand for meat products, especially beef. To meet that demand, agricultural producers are ramping up their operations by increasing herd sizes and sourcing the best feed to improve meat quality.
One of the most important elements of livestock production is finding high quality sources of protein that enhance product value. With growing concerns surrounding the use of genetically modified protein sources, such as soybeans and maize, livestock farmers are looking for other reliable protein feed alternatives. Insect protein could theoretically solve their problem.
Nutritional benefits of insects as feed:
Insects are protein-rich sources of food

Insects are 

rich in micronutrients

, including iron and vitamins
Insect protein is the real key to the viability of insects as a livestock feed source. Many experts even believe that insects could help solve the problem of global food scarcity. Why? Because more than 1,900 insect species are edible, by humans and livestock, which means the potential to become a sustainable food supply is legitimate.
Regulatory Blocks
Insect proteins are one of the most abundant sources of alternative proteins on the planet. Unfortunately, a wide variety of regulatory and legal complexities have successfully blocked many advancements for the use of insect protein as a feed source.
Aquaculture feed regulations have been adopted much faster than other sectors of the agriculture industry. Case in point; almost every other species of livestock is still banned from the use of insects as a consumable product. The European Food Safety Authority (EFSA) released a statement on the matter saying that insects which were fed with plant-based materials don't pose a risk, so long as insect producers comply with hygiene practices.
Wider Acceptance
As interest in the potential for insect protein grows, more and more commissions and safety organizations are beginning to invest substantial amounts of time examining its viability as a food source. The International Platform of Insects for Food and Feed (IPIFF) released a position paper entitled, The use of Insect Proteins as Animal Feed, making their stance on the subject crystal clear:
"IPIFF is convinced that insects may soon constitute a reliable alternative or addition to existing protein sources in feed formulae for livestock animals."
While the battle rages on in Europe, many countries have already adopted the practice of insect protein as a feed source. A study conducted in Kenya observed the potential of using the Black Soldier Fly (BSF) larvae as a livestock food source. Their findings suggested that insects could offer a better source of protein than soybean meal and fishmeal which are currently used in many poultry and aquaculture diets.
In Thailand cricket farming has been compared to broiler chicken production except for one significant fact; production has a lower impact on the environment.
It's clear that insect protein has significant nutritional benefits, but it remains to be seen how quickly regulations will allow for wider acceptance. If more safety commissions begin approving the use of insect protein as a livestock feed source, the food production capacity of the agriculture industry could make impressive gains.