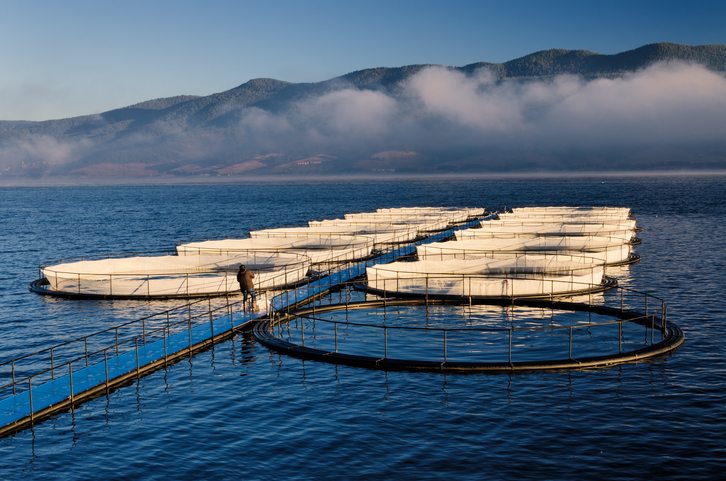 Fish farming occupies an important place in the food production sector. In the three decades preceding the early 2000's, the growth of the aquaculture industry outpaced all other animal food sectors. The average annual rate of 8.6% growth was more than triple the 2.8% annual growth rate experienced by the meat production sector.
According to the Global Aquaculture Alliance, approximately 62% of the supply of food fish will come from aquaculture by 2030. That means more growth across the globe for fish farming and industries that provide inputs to aquaculture.
A Global Snapshot Fish Farming
Fish farms have offered a viable solution to the steady decline in the amount of fish caught in the wild. Fish farming contributes to global fish consumption around the world.
China produces a majority of the world's supply of farmed fish and seafood at 62%, while 26% is produced in Asia outside of China. Europe and the America's trail far behind in farmed global seafood production at 4.5% each.
Feed & Nutrition
Farmed fish require a regimen of essential nutrients to support healthy growth rates and maintain optimal health. Typically, fish feed is supplied in the form of pellets that looks like common dog food.
With the aquaculture market becoming more and more competitive, fish farmers are looking for ways to differentiate themselves from competitors.
The best way for feed manufacturers to enhance the offering of their aquaculture feed products is with the use of high-quality additives and supplements. An appropriate additive can improve the preservation qualities of feed in addition to enhancing the processing ability. Manufacturers lose out on potential revenue as a result of wasted feed that gets damaged in the manufacturing process or breaks apart during pelleting. Feed conditioners and pellet binders offer effective solutions.
Addressing Specific Species
Tilapia is the most popular species raised in fish farming. It's not hard to see why. More than 80 nations in the world produce farm-raised tilapia. The three most common types of Tilapia are Nile, blue, and Mozambique Tilapia. In 2010 alone, 475 million pounds of Tilapia were consumed.
While Tilapia leads the pack in popularity, they are far from being the only popular farmed fish species.
The 10 most common farmed fish species:
Catfish

Tilapia

Salmon

Carp

Bluefill and Sunfish

Sturgeon

Walleye

Yellow Perch

Hybrid Striped Bass

Brook, Brown, and Rainbow Trout
Carp popularity is somewhat limited to Asian markets, while Catfish is mainly popular within the North American market.
Fish farmers that focus on quality over quantity will be able to produce stock of much greater value. Sourcing aquaculture feed that supplies all the nutrients required in a healthy fish diet is the first step farmers need to take. Regulating and maintaining an optimal environment for growth and performance should closely follow.