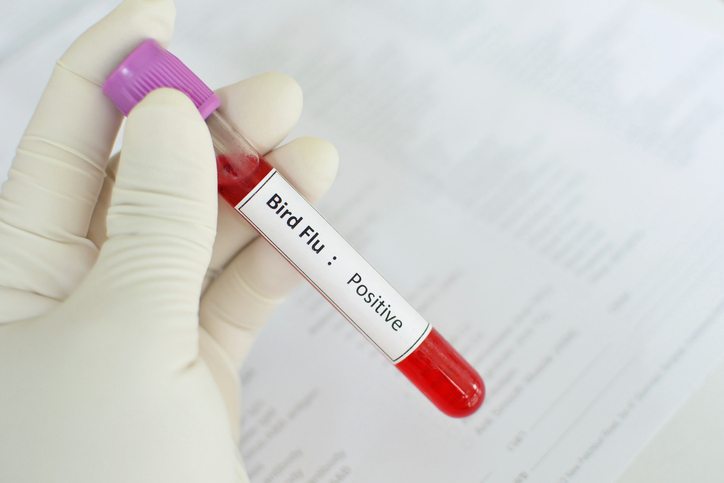 On March 5, 2017, the United States Department of Agriculture reported that a lethal outbreak of avian flu had struck a poultry farm in Mississippi. The very next day that news was followed with confirmation that a poultry farm in southern Tennessee also had an infected flock with a more severe strain of avian flu. The news has been met with trepidation from poultry farmers across the nation who were forced to destroy millions of birds just two years ago when the bird flu last hit. Now more than ever it's imperative that farmers start to identify bird flu symptoms in chickens and other poultry.
Avian influenza Type A viruses occur naturally among wild aquatic birds and can spread to domestic poultry flocks. The effects can be deadly and expensive. Identifying early bird flu symptoms in chickens offers the chance to mitigate the negative effects often felt by farmers and their constituents.
Bird Flu Symptoms in Chickens
Avian flu can spread quickly and negatively affect the health of chickens within hours. In severe cases, chickens can die within a day.
Common bird flu symptoms in chickens include
:
Edema in the comb and wattles

Purple discoloration / cyanosis  of the wattles, combs, and legs

Diarrhea

Nasal discharge

Soft-shelled or misshapen eggs

Decreased egg production

Coughing and sneezing

Lack of coordination

Swelling of the head, eyelids, wattles, hocks, and comb

Lack of energy and appetite

Pinpoint hemorrhages on feet and shanks

Ruffled feathers
Any one of these symptoms can indicate the presence of avian flu in your flock, in addition to sudden death that comes without warning signs.
Recognizing Bird Flu Symptoms in Humans
Although it's rare for humans to contract avian flu, it can happen. Symptoms such as fever, coughing, sore throat, muscle aches, and conjunctivitis may result from infection. In more serious cases pneumonia and acute respiratory distress can occur.
Additional symptoms:
Difficulty breathing

Diarrhea

Abdominal pain

Vomiting

Neurologic changes
Dealing with Recent Outbreaks
Due to the recent outbreaks in Mississippi, Tennessee, and Minnesota, farmers and poultry producers should be on high-alert and take extra precautions to avoid flock infection. There are two main ways avian flu is spread:
Through migratory birds

By human interaction
Wild migratory flocks, such as geese and ducks, can become infected with avian influenza and quickly spread it to poultry flocks across the nation.
Taking preventative measures:
Have flocks tested

Thoroughly clean all equipment and transportation vehicles used to move poultry and clean habitats

Closely monitor flock behavior, appearance, and appetite

Limit access to flocks to only the necessary personnel

Cutoff flock access to outside contact with wild birds

Isolate flocks that show signs of infection for at least 30 days

Do not borrow or use equipment from other poultry farms

Report bird flu symptoms in poultry to the USDA immediately
This latest outbreak of avian influenza comes in two different strains that are both different from the strains which wreaked havoc in 2015. The outbreak in Wisconsin is a low pathogenic H5N2 avian flu strain that has affected a flock of 84,000 turkeys. The Tennessee avian flu is a highly pathogenic H7 strain.
Animal feed manufacturers that can master the art of differentiation with high-quality feed additives will be well on their way to establishing themselves as the go-to supplier of animal feed.