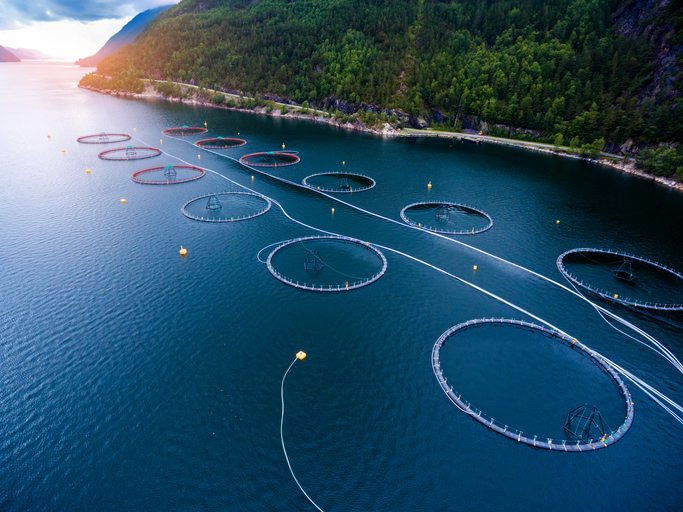 Aquaculture is the fastest growing sector of agriculture in the world. Since 2005, global aquaculture has grown at an impressive rate of 5.8% annually. Over the next decade, all indications show continued growth.
Many major industries have a certain level of reliance on aquaculture production to stimulate their economic expansion. The food industry, especially, is influenced by changes that occur in aquaculture—for example, more than half of seafood consumed worldwide is produced by the aquaculture sector.
Some of the biggest changes expected to take effect in 2018 include:
Less antibiotics

Continued industry growth

A focus on sustainability

The evolution of aquaculture systems and equipment
1. Less Antibiotics
Aquaculture producers faced intense pressure in 2017 for their overuse of antimicrobials, which resulted in the widespread proliferation of antimicrobial resistance (AMR). AMR has the dangerous potential to "compromise the treatment of bacterial infections" in both aquaculture species and humans.
With the World Health Organization labeling AMR a major threat to worldwide health, the discussion of antibiotic use will take center stage in 2018. Many organizations are already calling for restrictions on the use of antibiotics and—in some cases—proposals have been presented to completely halt the use of antibiotics.
2. Continued Industry Growth
From 1970 to 1995, "the number of fishers and fish farmers more than doubled" to 30 million worldwide. By 2020, the aquaculture industry is expected to grow at a healthy CAGR of approximately 4%. Among the list of countries planning to expand their aquaculture market share are China, India, the United States, Norway, Russia, Nigeria, and many more.
During the World Aquaculture Society's annual conference in 2017, Africa was the main topic of conversation. Many African nations are turning to aquaculture as the answer to some of their food production woes. Countries like Nigeria, Madagascar, and Zambia are currently the largest producers of aquaculture on the African continent.
3. A Focus on Sustainability
Three factors routinely enter the discussion surrounding aquaculture's sustainability:
Environmental degradation
Aquaculture farms that deplete many of the environment's natural resources can easily disrupt natural habitats. Shrimp farms are especially notorious for contributing to environmental devastation.
Influencing wild gene pools
Native species populations often dwindle when farmed species escape and begin to compete for food sources. In addition, farmed species can drastically alter native gene pools when introduced to the wild.
Feed
Fishmeal is the main source of feed in many aquaculture operations. Approximately one third of all globally captured fish are used to create fishmeal or oil. This results in the overfishing of many native species, which tends to suppress natural reproduction rates.
4. The Evolution of Aquaculture Systems and Equipment
Aquaculture equipment has changed dramatically over the past 70 years. From wooden cages in the 1960's to the current standard of polyethylene cages and hinged steel cages, equipment has slowly shifted from a mechanical to a more technological focus.
Feed systems have also changed to meet the growing demand for higher inclusion of nutrients in aquaculture diets. Feed additives have proven to be especially effective at improving both the composition and the nutritional quality of feed.
In an industry that's experiencing massive development, aquaculture shows great promise despite exhibiting signs of growing pains. One thing is for sure—2018 will usher in a year filled with more growth and more change for aquaculture.