Key Features & Benefits
Enhances pellet quality by facilitating rapid moisture absorption of feedstuffs, and thereby improving conditioning of the feed.
Optimizes and retains moisture content in feed.
Increases throughput and production capacity.•
Minimizes power consumption of pellet mill through improved lubricant effect.
Minimizes wear and tear of pellet die and increases die life.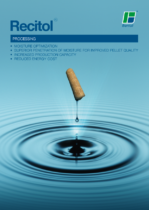 How Recitol® Feed Conditioner Works
Recitol® Liquid is a wetting agent that reduces the surface tension of water and allows water to penetrate feedstuffs effectively, preparing the feedstuffs to be conditioned for pelleting. It also helps to achieve higher throughput with less resistance and lower energy consumption. Further, moisture integration with feedstuffs occurs in bound form, thereby reducing scope for mold growth.
Sub-Brands
Recitol® S: The proven conditioning and productivity tool for feed processing.