Key Features & Benefits
Helps animals to overcome the negative effects on performance caused by stress.
Available as a completely soluble powder to enable application via drinking water.
Acts fast to provide quick relief to stressed animals.
Provides a sustainable remedy for stressful events without the use of medications, especially of antibiotics.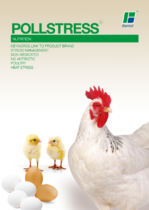 How Pollstress® Anti-Stress Agents Work
Stress causes significant depletion of electrolytes and vitamins in the body and upsets the microbial balance in the intestinal tract. Pollstress® help animals restore their physiological balance by replacing the electrolytes and vitamins caused by stress.