Features:
A long-reaction aquaculture feed additive resin with excellent pellet binding and water stability qualities

Contains catalyzing agents to balance the reactivity of resin

A low inclusion binder and water stability agent

Has exceptionally low levels of free formaldehyde

Contains free flow and anti-caking agent
Benefits
Effective at low inclusion levels (2-8 kg/MT or 4.5-18 lbs/MT) and spares nutritional space in feed formulation

Increased pellet durability allows transport of feed over long distances and through abrasive feed application such as automatic feeders

Bonds formed during thermo reaction are irreversible and not affected by water, so feed remains stable and attains high water stability

No negative impacts for animals or humans due to low level of residues

Reduces formation costs by increasing the flexibility of using less natural binders and more fibrous ingredients

Helps minimize production costs by reducing fines and dust by eliminating reprocessing costs

Does not react with nutrients in feed

Offers flexibility to include high-dust, low-cost feed ingredients to reduce feed formulation expenses

Improves the ease of feed handling and storage

An aquaculture feed additive that is non-toxic and has no residual effects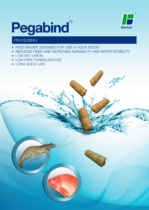 How Pegabind® Aquaculture Feed Additive Binder Works
Pegabind is a thermo-reactive binder that is stable at room temperatures, and therefore mixes well with other feed ingredients. Once the feed mix is exposed to moisture and heat conditions, the aquaculture feed additive reacts by binding other particles, forming a three-dimensional structure. Pellet durability and water stability increase because to the binding effect. Pelleting capacity may increase and energy consumption to pellet may decrease due to the lubrication effect in the dye.